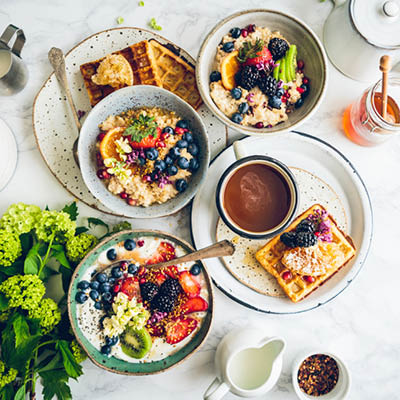 17 Nov

5 of my fave feel-good homemade breakfasts
I'm a big breakfast lover. I think a good breakfast has the poer to make you feel sexy…or sloppy. I even encourage my coaching clients to think about how their breakfast choice is influencing their day… because, it really does set the tone for the day.
I used to grab a banana and rush out the door frantically whilst putting my lippy on. It sounds so cliché, but the struggle as real! The frantic energy I created between 7am – 9am was just insane. It's not good for the soul…we both know it, right?
So, I wanted to share with you all my 5 feel-good breakfasts, just quite simply to encourage you to think about how you start your day, and how introducing a good breakfast, could indeed transform your life (like seriously, all the women going through my 10 week programme; 'My beautiful life' even have a chance to plan and live their perfect day….planned right down to the breakfast they eat in the morning!)
I've written a feeling I want to create when cooking each breakfast below so you can choose one that reflects the way you want to feel)
Banana pancakes, with strawberries and agarve syrup (Feeling: Naughty and relaxed)
Cauliflower steaks and garlic asparagus (Feeling: strong, healthy and like super woman)
Granola and yoghurt (Feeling: fresh and sexy)
Banana on toast (Feeling: looked after and held)
Breakfast muffins (Feeling: Organised and healthy)
Happy breakfast making, and here's to less frantic energy and more good vibes! Have a gorgeous day X
Tag me (@aliceallum) in your Insta posts, I'd love to see what you make!
P.S, I recommend checking out Annie Carlin's books. She's just the ultimate vegan, feel-good food legend. Most recipes we make are inspired by her recipes and many of the breakfasts above came from her books. Check here out on Insta @AnnieCarlin