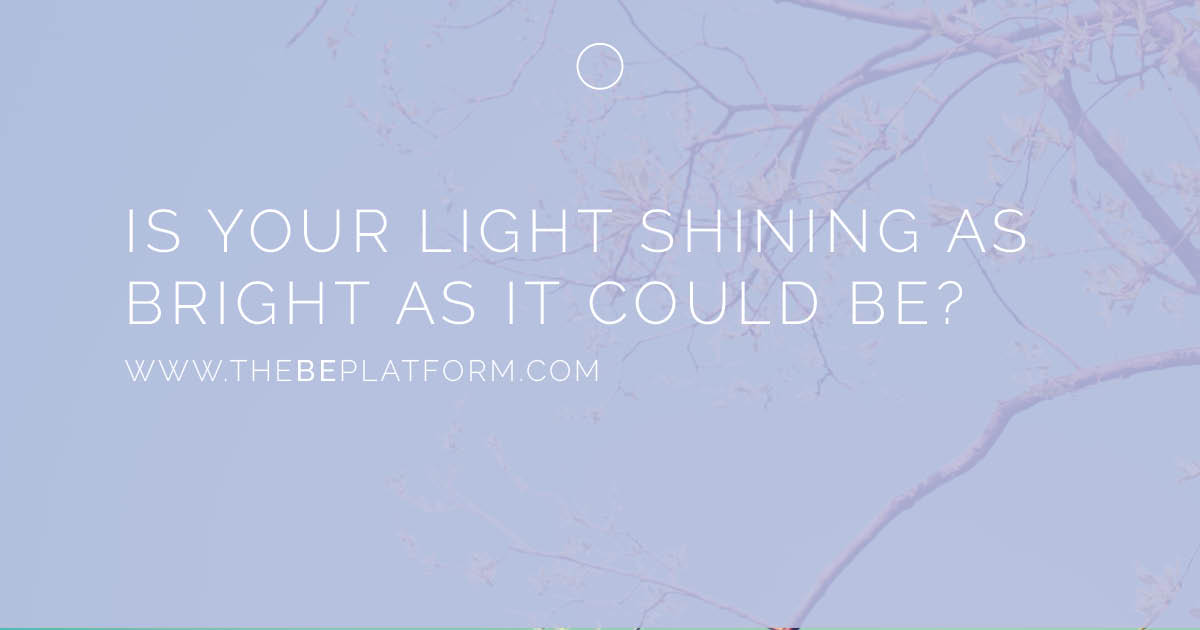 11 Mar

IS YOU LIGHT SHINING AS BRIGHT AS IT COULD BE?

We're all going to end up in the ground one day'; the most powerful phrase in my world which guides me daily.

A brave, strong, ferocious women told me this in moments of doubt and pain, knowing there were always opportunities to dance in the rain. She would say 'what do you have to lose Alice? We will all end this world in the same way, in the ground.' It wasn't until the past couple of years I've been able to embrace this and like her, share these subtle words of wisdom, hoping that one day, people too will embrace it.

I'll mount it on my wall one day, intertwined with roses, birds and blue skies, all those joys we associate with freedom; ironic I know. When I share this phrase, I see faces of horror, intrigue and sometimes even anger, as the words shrink the scale of fear people have bravely dared to share with me. I don't say this to belittle their fears, or even dismiss them. I say this to add perspective. When we're faced with daily challenges, we must ask ourselves, honestly, 'what do I really have to lose?' and is that loss worth the freedom, rewards and happiness of what I'll receive if I'm brave enough to overcome?

I've made a habit of asking people 'what would you do if today was your last day on earth?' a question Steve Jobs regularly asked himself to ensure he lived a fulfilled, passionate life. Some people burst out into excitement and share their deepest desires, others question themselves and begin to ask 'what do I really want?'. Either way, I hope it ignites a sense of desire to feel alive.
WHAT DO YOU KNOW FOR SURE?
My favourite book is called 'What I know for sure' by Oprah Winfrey (a book I regularly refer to as my bible). Oprah was surprised during an interview with Gene Siskel when he had asked, right before the closing; 'tell me, what do you know for sure?'. Oprah was surprised at herself to find she was lost for words. What did she really know for sure? This prompted Oprah to write this book and now it's a question she asks her guests regularly.
It's a fantastic question and one I've gone in search for answering myself. What do I really know for sure? Right now, in this moment.
Well, this is the one thing I most definitely know for sure. I know that one day, we will all leave this world and when we do, I wonder what our doubts, fears and limiting beliefs will mean in comparison to this? In knowing this, which we all do, how can we not live a fulfilled life, when one day it will all be gone. I ask myself how can we not make every moment meaningful?
Because I know this, I know for sure that we must build the courage within ourselves to pursue what we truly want from life. For without it, we will never be alive. We will have only lived. What I'm learning now is we will never be truly happy if we do not pursue what we really want.
HOW BRIGHT WILL YOUR LIGHT BE?
Within this book, Oprah shared the story of her interview with John Diaz, an interview Oprah regularly references due to the impact his story has has had on her. John had boarded a plane in pretty tough weather conditions, with a feeling that something wasn't quite right. That very evening, John escaped from a flaming Singapore airline. Eighty-three people died that evening. Although John now walks with assistance and suffers physically from his injuries endured that night on flight 006, John explains he is now more alive than he has ever been.
The plane had set off down the wrong run way and soon the plane was being torn open. Seats began to crash into one another and suddenly there was what John described as 'a great fire ball'. Instantly the plan had ignited like a torch. John looked around to see people struck in flames. As he grabbed his leather bag, covered his head inside and approached the exit, he looked behind to see what he describes as 'auras leaving bodies, some brighter than others', he believes the light he saw represented the lives people had lived. With brighter auras resembling brighter fulfilled lives.
John now lives his life in pursuit knowing that when he is faced with death, when he is in the ground, he wants his aura to be the brightest aura there ever were.
What I know for sure is we must not allow our lives to be defined by others dreams, we must define our lives with only our own. We must define what true happiness is for ourselves and not for others, because when we are faced with death, it wont be our job titles, medals or assets which define us and allow us to leave with peace, but our auras which will reflect on whether we were willing enough, brave enough and fearless enough to pursue what we truly want.
I want you to ask yourself, are you in pursuit of fulfilling your life? Are you defining your life with your own dreams? and of course, what do you really know for sure?
Light up the world, share the love
This error message is only visible to WordPress admins
Error: No feed found.
Please go to the Instagram Feed settings page to create a feed.