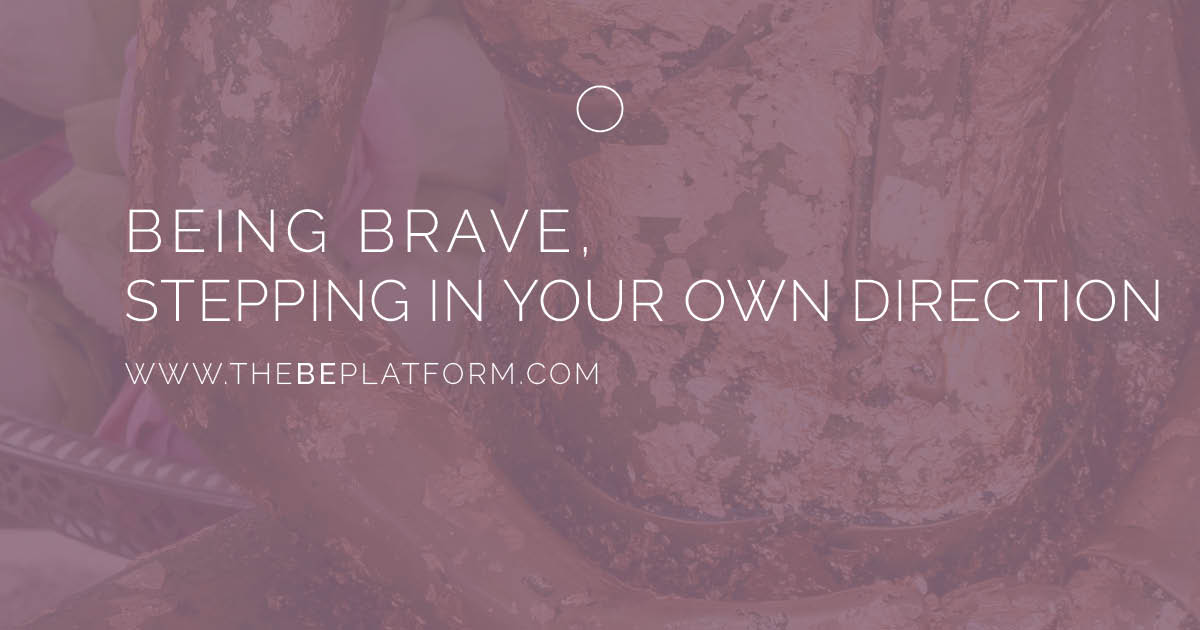 05 Jul

Being brave, stepping in your own direction

There is a certain type of person who moves with charisma, strength and attraction. An attraction, which comes from being true to yourself. They may not be the typical sight of a leader, genius or hero. But you can feel it. Even when they're not present, you can feel they have a greatness to give.

This is what I call the brave.

The person who is willing to show their desires and nurture them. The person who is willing to show themselves and embrace it. The strong human who knows their destiny, their greatness, their potential and who has the courage to take it.

Are we brave because we dream? Because we all do.

Are we courageous because we dare to say it? Because we all have.

Is it brave to share your dreams whilst being lead on the wrong path? There are so many who allow it to happen. Every single day. Many business owners will tell themselves 'I'm living my dreams, I'm leading my own way.' Take a step back. Are you? Is your team influencing you? Are your doubts guiding you? I believe the brave are the ones who step out onto their own path, into their own direction.

When you build your business, your relationships, your team and your life, you can begin to build it for others out of fear. To accommodate needs and wants of your team, partner and family to design the environment for them to thrive. It's time to ask yourself what you need to thrive. What people, energy, and environment do you need to full fill yourself? I believe it won't be until you're in this environment that your journey will begin to align to your dreams.

I believe it's only the brave who will drop their doubts and begin to build their own environment to create their success.

I want you to think about what you want from your life, remove the fears of your doubts and begin to build an environment for yourself to thrive. Visualise your brave self. What do you see? Feel? Hear?

You know it's your destiny. It's only a matter of time. Let it be now.

Many of us hold ourselves back every day, it the smallest ways. In ways we wouldn't even realise. I don't believe being brave is about large acts of courage. I believe being brave is about making the small choices every single day.

Take a piece of paper. Draw three lines to create four columns.  Think of your day. And this day only. Your tasks, your conversations, the experiences you've had. Write in the first column a list of those activities where you received an outcome you didn't want. It may be a conversation, a presentation or a task. Remember these are activities where for one reason or the other you didn't receive the outcome you wanted. You left dis satisfied, disappointed or without progress.

In the second column write down why that disappointment happened. It may be because you feared you weren't capable, you thought someone may disapprove or you didn't want to hurt someone's feelings. Write it down.

In the third column, write the outcome you wanted. What did you hope for from that activity? What was your intention? What would the ideal situation have looked like?

In the final column, write down what you would have gained if you achieved your ideal outcome. It may be new clients or increased revenue or it may be personal progress or satisfaction. Write it down.

Reflect on the progress you could have made if you had taken action to receive the outcome you wanted and ask yourself what you need to do to be able to create those ideal outcomes. Is it self-confidence? Is it facing up to a difficult conversation? Is it admitting to yourself what you truly want?

Now take action, write down 3 things you can do to overcome those doubts, fears and challenges. What three things could you do right now at this very moment? Instigate a conversation? Map out your goals and break them down into metrics?

I believe we can all be brave. We all have the ability to step into the person we want to become and it's up to us alone to drop our doubts, build the environment to create our dreams and step in our own direction.