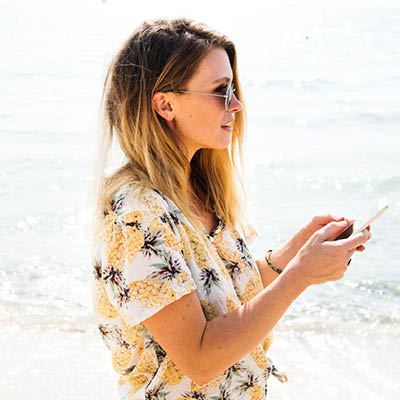 07 Dec

5 free apps to support you on with your spiritual practise
Here are the 5 apps I personally use everyday to support me with my spiritual practise and to live a mindful life. 
1.  Nature Sounds 
This is one of my favourite apps ever! I have no idea how it got on my phone, but I love it! It's a app which plays different nature sounds, so for example you can choose to play 'Crickets Chirping' and 'Mountain Ambience'.
When I'm reading at night, usually a personal development book (right now I'm reading Danielle La Porte's new book; White Hot Truth), I play one of the nature sounds in the background and it helps me really focus on reading and get lost in the book. I also love playing this in the bath!
2.  Insight Timer 
My meditation teacher and friend Christine introduced me to this app and it's just fabulous! A big worry I would have when meditating was what if I meditate too long and miss a meeting or a call etc. With this meditation app you can set lovely chimes to go off after you select number of minutes and it's such beutiful way to bring you back round and back into your body.
Here's a link to the app:
3.  Sound Cloud 
I love using sound cloud for guided meditations and visualisations. I'm also currently really into doing a Yoga Nidra in bed before I go to sleep, it's a beautiful way to relax your mind and switch off.
Here's a link to my favourite Yoga Nidra, give it a try tonight!
4.  Spotify 
Over the past year I've really made a effort to bring more music into my every day life, I love listening to high vibe music in the shower and relaxing piano music whilst I work. Music really can create the most amazing feelings – In one of the modules in 'My Beautiful Life' my ten week programme I ask all the women going through this to create there very own feel-good playlist and they just love it! I'd recommend you do too!
You can listen to my mini-retreat playlists if you search 'Mini Retreat |
5. Notes 
Now this is a basic one but I use my 'Notes' app nearly every hour – seriously! I use the notes app to write down ideas, inspiration and experiences. Writing down what's in your head is so important, I find once I've written something down, I'm able to release it. This allows me to stay present throughout the day without having too much noise in my head.
There are other apps such as Calm and Head Space which are highly rated and I did enjoy using these apps however the ones above are what I use on a everyday basis – I hope you enjoy using these, they've really supported me in living a mindful, connected life.