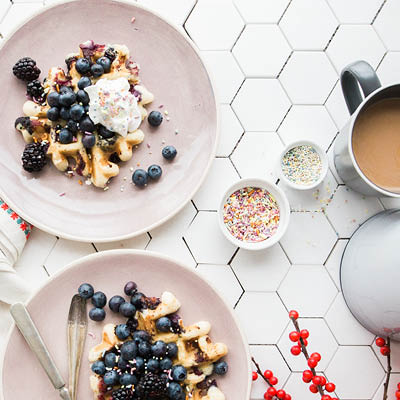 19 Sep

30 day Challenge | Mind, Body & Soul

For the next 30 days I will be challenging myself to step further into the person I want to become and the life I want to live.

I'm a big believer that it's every small action that creates a beautiful life, it's not down to one big achievement, goal or action, it's down to the tiny micro actions we make each and every day.

We all have the ability to create the life we dream of but do we all have the discipline to make it happen? This is what this 30 day challenge is all about.

Me and my partner, Lisa, were planning on starting the Arbonne 30 days to healthy living cleanse and asked ourselves. Why stop there?

So we've decided to not only focus on our physical health, but our mind and soul too to have the full holistic experience.

The challenge begins on Wednesday 21st September and we would love you to join us! We'll be sharing our experiences on our social media channels.

Health (Physical Health):
Go to 1 x Yoga Class

Go to 1 x Tai Chi Class

Go to 1 x Horse Riding lesson

Get up and go for a walk and read in the park 7am once a week (love that time of the morning makes me feel alive!)

Complete the 30 day Arbonne cleanse starting Wednesday 21st September (cutting dairy, sugar, gluten from diet – pretty much vegan for the next 30 days!)

Start each morning with a healthy home made vegan protein smoothie

Make Arbonne healthy Coconut chocolate protein balls
Adventure:
Try something I've never done before (last month I went on a 6am sober boat party down the thames and it was an incredible experience!) 

Book something completely random from the Living Social website (great website for activity inspiration!) for Lisa and I to experience together (this is how we started horse riding!)
Spiritual (Mental Health):
Wake up evert morning at 7am and read 10 pages of a positive book each morning (This will most likely be from The Fire Starter Sessions & Desire Map – I am already loving the ideas in these books!)

Complete Mirror work every morning and before bed with specific affirmation attached to goals

Complete manifestation exercise every night before bed (after mirror work)

Continue to practice a lesson each day from in A Course in Miracles

Post A course of Miracles lesson in the private The BE Platform Facebook group daily (let me know if you would like me to add you to this group!)

Meditate 15 minutes per day (taking new meditation ideas from my Meditation made easy book by Stephanie Brookes)

Clearing and organising all documents on my laptop and my home office space (After reading Maria Kondo's book 'The Art of Tidying' I'm ready to tackle another clutter detox in my businesses.)

Finish reading the following books: Fire Starter Sessions and Desire Map by Danielle La Port and 'Getting the love you want' by Harville Hendrix
Social:
1 social event per week booked in the diary to go to (Manchester/London/Newcastle)

See Four friends that I haven't seen in a while for a coffee and catch up

Spend some time with my sisters in London.
Self love:
Buy flowers every Sunday to brighten up the house and remind me there is something bigger at work here than us.

Have a spa bath once a week with full spa treatments and meditations

Write down 10 things I'm grateful for every evening before bed

Complete Desire map exercises by Danielle La Porte

Start each day with a Miracles Now inspirational affirmation by Gabby Bernstein.

Complete a Tarrot Card reading for myself

Sunday mornings to be spent doing a Yoga class at home and watching super soul Sunday with Oprah whilst eating a bowl of fresh fruit, soya yoghurt, almonds and organic honey
Dreams:
Write one new piece of content per week for The BE Platform (4 in total by the end of the challenge)

Complete Mindfulness Diploma 2 x modules

Complete 30 minute focus call with myself every Monday afternoon (Treat myself as I treat my coaching clients)

Create 1 x video for The BE Platform

Complete all client work by 2pm leaving the rest of the day to work on my future goals

Complete my first ever The BE Platform interview with Lisa (One of my dreams is to interview incredible people who are aligned to their truth and share their journey with the world through The BE Platform – let's do this!)
Financial: 
10% of all income to be put into a savings account

Do not spend any money on items that will not add any real value to my health
How to get involved:
I would love you to join us on this journey! To take part, all you need to do is write down your goals and commitments and begin the challenge on 21st September.
If you really want to declare your 30 day challenge, why not write it on your blog or share it on a Facebook post! Let me know if you're joining us by commenting on my Facebook post so we can all support each other over the next 30 days!
Lisa and I will be sharing our challenges, experiences and results – let's do this!
To see what Lisa's 30 day challenge will involve, click here
P.S Want to find out more about how you can work with Alice one on one or how you can join her team? Email [email protected]
This error message is only visible to WordPress admins
Error: No feed found.
Please go to the Instagram Feed settings page to create a feed.