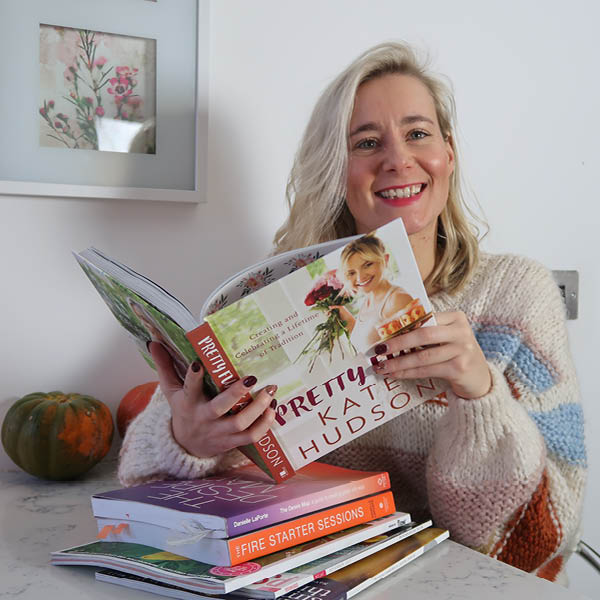 21 Dec

What I'm Reading this Christmas

I love to read. I just feel so cosy and connected when I read. The moment, I get a book out to read I just feel like me! It's beautiful. This Christmas I plan on doing LOTS of reading and if you're anything like me, you will be too! 

I've never had a kindle,  I'm not sure I ever will. I just love touching the pages, and flicking through chapters, it just feels so zen to me. I also love decorating our home with books – they remind me of my personal journey and the things I've learnt along the way, I love it!
So, here's what I'm tucking into this Christmas:
White Hot Truth – Danielle La Porte
Ahh, Danielle La Porte! Possibly one of my favourite authors and spiritual teachers. I just love reading all of Danielle's work. Her previous books Desire Map and Fire starter Sessions have had huge impact on my personal life and on my business. I just couldn't rave about Danielle's books enough! She lays it down straight and is just hilarious. If you're a spiritual seeker, you're gonna love this one! I've been laughing my way through whilst also using the principals she teaches.
(Photo of Danielle La Porte below)
Pretty Fun – Kate Hudson
I love everything about Kate Hudson. Her first book 'Pretty Happy' really inspired me to make some positive changes in my life, so when 'Pretty fun' was released, I just had to get it! It's all about how to bring more celebration into your life and gathering friends together. I always wanted a group of soul sisters and this book has already really encouraged me to organise themed parties! I've already planned my first themed party in January at our home here in Tynemouth, the theme will be gratitude and I'm planning a 'moon bath' for my birthday party with all the wonderful goddesses in my life.

The Wisdom of Sundays – Oprah Winfrey
Most of you will know how much I get excited about Oprah! Her book 'What I know for sure' literally changed me life. If you didn't read the blog I wrote about it a few years back, here it is. 
In The Wisdom of Sunday's Oprah has shared conversations from interviews with incredible spiritual leaders over the past years. It's a great book to dip in and out of…I'd call it a coffee table book.
Before I speak to any of my coaching clients, I have a little ritual where I pick a page at random and read the page to get inspiration. There's so much wisdom in this book!

Moonology – Yasmin Boland
It's not secret that I'm obsessing over the moon at the moment. My moon obsession came about a good few months ago. Every time I was feeling a little lost of down, it just happened to be a full moon! Whenever I told anyone I was feeling a little gloomy, they would respond with something along the lines of 'ohh well, it is a full moon, so it will pass'…I started to look into the moon and learn about how to work with the moon.
I finally came across this book by Yasmin Boland. It's such a simple step by step guide to understanding the cycles of the moon and it includes wonderful rituals during a full moon and new moon. It's even inspired me to throw monthly moon parties with my closest spiritual friends. This is a must read if you're new to the ways of the moon and eager to learn!

Invicible Living – Guru Jagat (Kundalini teacher)
I bought this book by chance. I saw one of my yoga teachers post about it on Instagram and a few months later when I was putting a big book order through on Amazon (as you do!) it was in my 'suggested reading' list and something just told me to get it! I haven't read it yet, but it looks like it's full of super practical information – meditations and kundalini practises, alongside breakdowns of understanding the chakras etc. I'm excited to tuck in over Christmas!

Flow – Monthly Magazine
This magazine has become huge part of my evening ritual. This magazine is full of inspiring stories, interesting ideas and wonderful pictures. I find it's the perfect way for me to switch off before bed. They are a little more expensive than your typical magazine, but it's worth every penny to me. Next time you're in a super market, pick one up and take a look inside…I'm pretty sure you'll feel the same as me!

I'd love to hear what you're reading this Christmas – some of the best books I've read are ones friends have recommended to me, so please do send me a message and let me know at [email protected] or tag me on Instagram @AliceAllum
Sending you so much love this festive season,
Alice XO
P.S If you haven't yet downloaded your free gift;  'My Mindful Christmas' packed with mindful activities, festive hot drinks and your own planner, click here to get yours.